Transparent clock & weather
3.12.5
Weather App – Stay Updated with Local and International Weather
Are you interested in knowing about the weather conditions in your area? Do you want to know when it is going to rain in your city? If yes, then this weather app is an ideal choice for you. Transparent Clock & Weather Forecast is a useful app which provides accurate information about local and international weather conditions in real-time along with weekly weather forecasts. It keeps you updated about the current weather in your area and shows how long it is going to remain that way. There are both hourly and weekly forecasts available which can help you in planning your outdoor activities. In addition to local weather reports, you can find out what the weather is like in other parts of the world as well.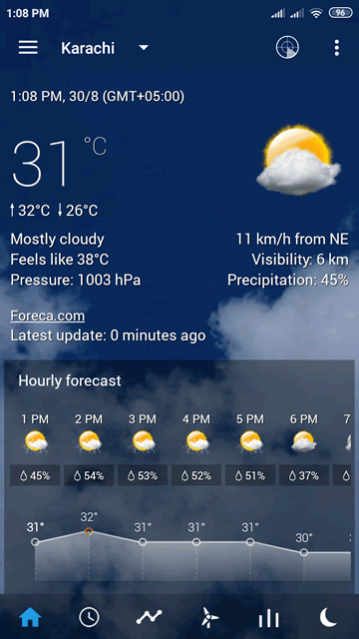 Transparent Clock & Weather Forecast has an intuitive user interface which makes it easier to interact with. The layout of this weather app has been designed very elegantly with each information given equal weight on the screen. So, you can quickly get an idea of what the weather conditions are like in a single glance. This app uses your phone's GPS to get a lock on your current location. It then quickly displays a live weather report for your area on the home screen which gets updated in real-time. In this report, you will find details about various weather parameters like temperature, pressure, wind direction, visibility, and precipitation. You will also get to see hourly and daily weather forecasts just below the weather report.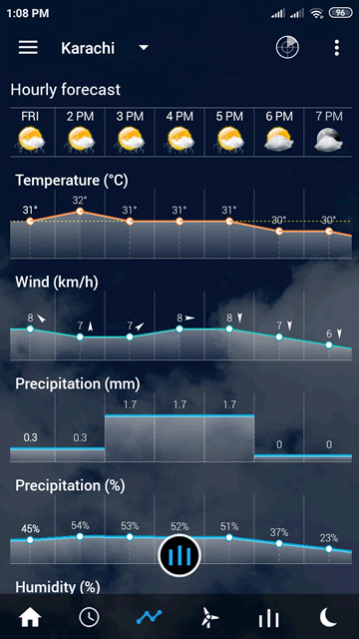 The home screen of this weather app offers information regarding humidity, dew point, UV index, and heat index as well. There is an hourly wind forecast also available which is followed by the durations for the sun and the moon. To see these details, you simply have to scroll down the home screen. On the base of the screen, you will find various icons which can lead you to the various sections of the app. For instance, the forecast icon located right next to the home screen icon takes you to the Hourly Forecast section. There is also a graph section available too which shows you hourly forecasts for different weather parameters in graphical form. The parameters whose graphs are available include temperature, wind, precipitation, humidity, dew point, and pressure.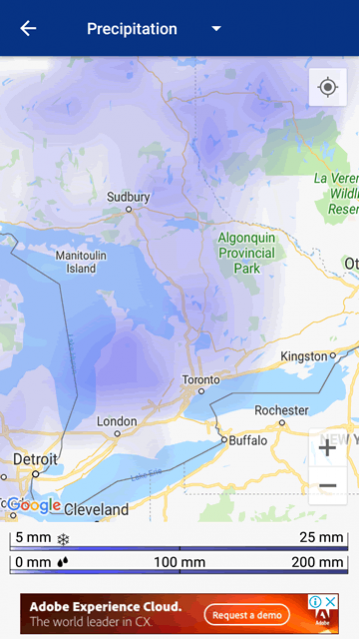 Transparent Clock & Weather Forecast doesn't just keep you informed about local weather conditions. You can search for weather reports for other locations too. This requires you to click the menu button located at the top-left corner of the screen and choosing the 'add new location' option. It will direct you to a search box where you can type the name of the location whose weather report you are interested in. The app will search its database and find the city you have searched for. Once added, you can see the live weather report and weather forecasts for a location just like you can for your current location. You have a Weather Radar available to you in this weather app as well which shows various weather parameters on a map.
Features:
Intuitive user interface
Elegant design and layout
Live weather reports on offer
Provides information regarding various weather parameters
Hourly and daily weather forecasts available
Graphs showing an hourly forecast for each weather parameter
Find weather reports for any location in the world
Weather Radar with multiple layers
Various background screens to choose from
Multiple weather widgets to place on the home screen
Find the accurate timings for sunrise and sunset
Learn about phases of the moon
Conclusion:
Transparent Clock & Weather Forecast is an app which is aimed towards people who want to remain updated with the weather conditions in their area. It offers live weather reports that contain detailed information regarding various weather parameters and also provides hourly forecasts for each parameter. It is a weather app worth having on your phone if you don't want the weather to ruin your plans.
---
Add a review
Tell us your experience with
Transparent clock & weather
3.12.5
RELATED PROGRAMS
Our Recommendations
---
---
---
---